Moving your client from one step to another will allow you to track their progress through your Sales Process.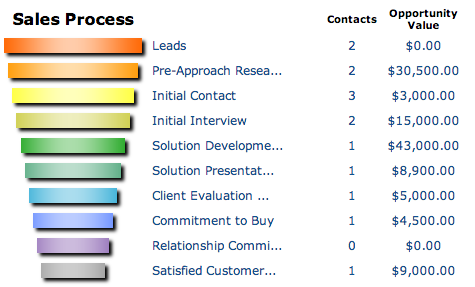 Assign a Contact to the Sales Process
There are a few ways a contact can be assigned to the Sales Process
Assigned during the import process
Directly from your Contact List
While adding/editing their profile
While the first process is the quickest way to initially assign New Contacts to a Sales Process, the other 2 options are the best way to move a Contact form one stage to the next.
Moving a Contact to the next Stage
1. Directly from your Contact List
1. In your Address Book list, hover over the Action menu
2. Select Update Process / Stage
3. In the dropdown list, select the next Stage in the Sales Process. Update the Opportunity value
4. Select another Sales Process if the contact has become part of another process.

Please see the Quick 'Action' menu for more details
2. While Adding/Editing a Contact Profile
1. In the Contact Profile, scroll down to the Sales If your contact is already part of the sales process, you will notice the color-coded stage indicated to the the left of the sales process details
2. To add a Contact to multiple Sales Processes, Edit the Profile and click Add Process.A new row will appear, allowing your to select the preferred Sales Process & Stage.Go to your Sales and CRM Dashboard to see your opportunities and sales reflected in each widget!