Good News, Sales Team News and More!
The Good News Widget is the perfect way to share good news with the rest of the team! Keep everyone informed about the latest success stories, special services or product offerings, client news, or testimonials.
Add an image, video, or audio clip, and even documents or links to websites – the uses are endless and everyone on the team receives an email when there's news.
Share Good News
On your Front Page

, look for the Good News widget:
Click on Add Post and give your news a Title. Type a message or description using the basic editor or advanced
HTML.
Share a photo, video, audio clip or document by clicking Select File.
Click Save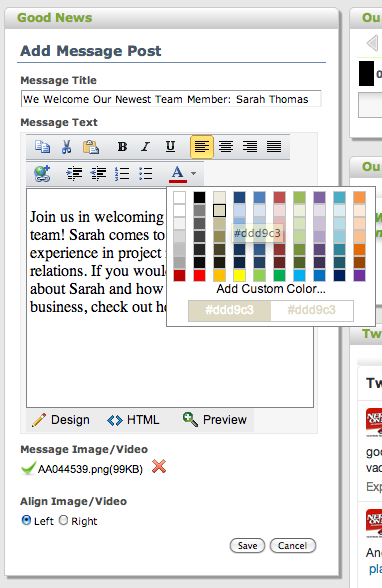 And your post will appear immediately on the Front Page! All team members will be notified via email of your Good News.
Your team can comment or ask questions about your Good News! Everyone on the team can get involved, adding congratulations or suggestions.
On the Road? Email some Good News to your Front Page from your mobile device!